COMMUNITY SPOTLIGHT
Like many sports, basketball is centered around a ball, points, and most importantly, teamwork. What can seem like just fun and games from the outside actually focuses on the team members working together to reach one common goal. This is why basketball is the perfect sport to represent reaching goals within our community through Arsenal Promotions 6th Annual Celebrity Basketball Game.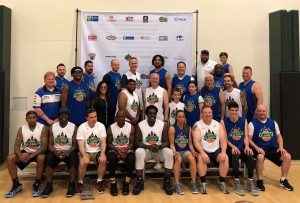 "Over the last four years, the Celebrity Basketball Game has generated and donated thousands to local youth sports and military family programs," explains Arsenal Promotions Founder, Mike Goff. "Six years ago, I was working with another individual with a baseball event that was a fundraiser to help with scholarships and equipment, which is what started the whole thing of bringing celebrities to the area. When that event shut down, I wanted to keep raising funds for these important causes."
Through this annual basketball game's ticket sales and raffle items, Goff's dream has continued to bring support to our community. "Each year we try to gather new individuals and players that want to help out," describes Goff. "We bring all types of people together to engage and create relationships in the community. This year we have Kyla Coleman who just won "America's Next Top Model," Dakota Poorman, a local country singer, along with athletes from the Tampa Bay Buccaneers and CJ Prosise of the Seattle Seahawks are just a few of the names on hand this year. We try to provide celebrities that everyone can look up to and are a mix of role models."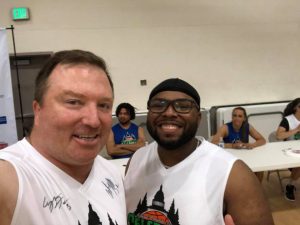 There is more than just the game to enjoy as a spectator. It's a full-on celebrity experience. "The experience is different from anything else," says Goff. "It's like going to a sporting event. Usually you yell out to a player, reach over for an autograph and you may be lucky enough to get their attention. Some players don't react because they are in the zone. With this event the moment our players walk in the building they are engaging with fans. That's what they are there for. They have smiles on their faces. Sometimes they will even sub fans into the game if their fouled. It's like no other experience out there."
With a team of celebrity players at the helm, local businesses also bring their best to the game in the form of donatable raffle items to raise money for a great cause. "Local businesses have always helped out. Olympia Furniture Company, Lucky Eagle Casino, and Steadman Properties are just of the few consistent ones over the years. We've donated thousands over the years to different community-based youth programs and we really couldn't accomplish that without the support of our local businesses. They are always so willing to help out and donate their time, energy and raffle items."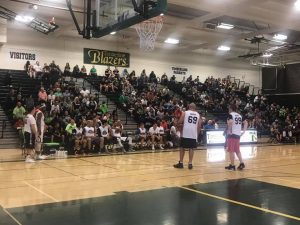 It seems that in a usual game of basketball there is only one winner and one loser but at this event, everyone comes out on top. "Local youth sports programs get all of the funds raised for the game. These celebrities come down to Lacey to engage with our community members and make a difference in their lives. It's really a great way to help out and give back to the community.
This year's Arsenal Promotions Celebrity Basketball Game will take place on June 15, 2019 at Timberline High School. Children under 5-years-old are free. Tickets are $20, advanced, $25 at the door. Fast Track VIP tickets are $60. Want to play? You can be a part of the team for $600. For more information, check out the Arsenal Promotions website.
Story from ThurstonTalk.com